Tool reconditioning
---
Centrum Techniki MACRO provides the service of reconditioning carbide tools, both of our own products and those of other manufacturers. The process guarantees a full restoration to the original geometry, this is a very cost effective alternative to the procurement of new parts.
Centrum Techniki MACRO supplies the market with new monolithic tools made of solid carbide. We also offer a comprehensive reconditioning process with the possibility of modification/customisation according to the customer's required specification.
The MACRO machining area consists of modern 5-axis grinders which can precisely reproduce the original geometry of the machined tools.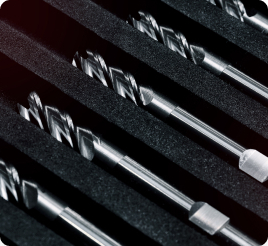 We can recondition end mills, drills, reamers, chamfers, countersinks and many more specialist tools.
Benefits of reconditioning carbide tools
Cost reduction
Time saving
Stock control
Quality of reconditioned tools
Environmental protection
Reconditioning process step by step:
1
Assessment of wear and possibilities of reconditioning of tools provided by the customer
2
Sharpening, during which the original geometry of the tool is restored
3
Machining of cutting edges before coating
4
Coating with coatings that extend tool life
5
Protection of tools after reconditioninig and delivery to the customer
Custom modifications:
Change of tool diameter

Change of tool geometry; adding radii, roundings, chamfers

Changes of the apex angle (drills, chamfers)

Lengthening or shortening of the cutting zone

Adding a Weldon flat on the shank

Shank modification

Tool grinding